Vintage Hills condos & townhomes are few and far between. I recently listed a 2-bedroom townhouse in the Vintage Hills area of Pleasanton, CA. Within 36 hrs on the market, we had 2 offers and many buyers rushing to view the home. What does all of this mean?
Take a look at the chart below. Not only are we in need of inventory in Vintage Hills for condos & town homes, as a whole, our inventory, when being compared to months of inventory during this time in 2011 versus our current status, months of inventory are down 71%. Not only are people looking for Vintage Hills condos & town homes in Pleasanton, CA, buyers are waiting in the wings for luxury properties as well.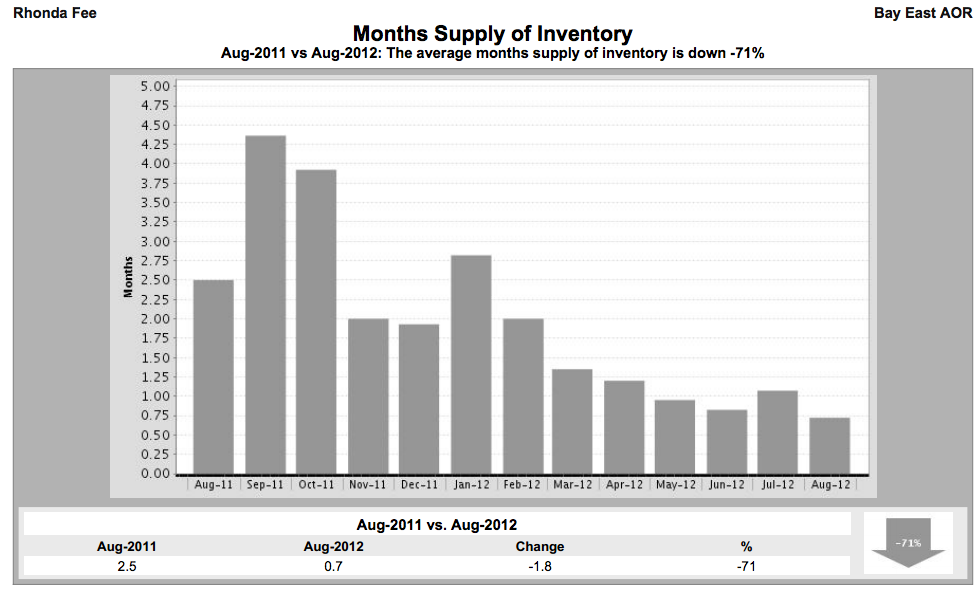 On a recent outing with my client searching in the $1.5m - $2.0m range, we came across 2 properties within 2weeks of each other. One, listed for $1.7m in Pleasanton's beautiful Golden Eagle Estates had multiple offers with the winning bid paying quite a bit over asking and all cash! And this was just the first weekend on the market.
Within 10-days of finding that property, we went to Pleasanton's gated golf course community of Ruby Hill. Within the first 48-hrs on the market, we came across a lovely home priced at approximately $1.6m. While vieiwng the home with my client, we learned that a full price all cash offer had been submitted with the potential buyers wanting to close within a matter of days!
Have you thought about selling? I can provide you with a free market analysis of your property. All you need to do is ask!
Pleasanton properties as a whole including Vintage Hills condos, town homes & detached properties, equity sales and short sales are short in supply. Demand is here now. Let's connect!