The Estates of GlenEagles homes in Overland Park Kansas Housing Market Update June 16th, 2010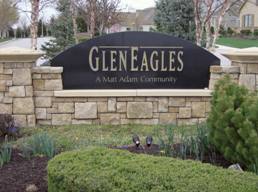 As of June 16th, 2010 there are 6 homes listed for sale in The Estates of GlenEagles Overland Park . The listing prices range from $699,999 to $1,190,000. Lot sizes are ranging from 1/3 to over 1/2 acre, sometimes a bit more.
'29 Essential Tips That Get Homes Sold Fast (And For Top Dollar)'
Call Toll Free 1-866-251-4442 ext 7003 to order your copy - FREE!
Comparison shop -
homes for sale in Overland Park KS $690,000 to $1,2000,000
GlenEagles home sale prices and sales pace
In the last 12 months 2 homes at The Estates of GlenEagles have sold and closed. During the last 12 months the homes in
The Estates of GlenEagles Overland Park KS
66221 have sold in the range of $560,000 to $598,900 GlenEagles is a beautiful neighborhood, with three years of inventory based on the last years demand. Taking that supply and demand into consideration, there is quite a disconnect between what buyers are willing to pay and what sellers are willing to accept in the GlenEagles real estate market at the moment. As a reminder, 143rd street is currently being widened so you will need to come into the subdivision through Quivira and 141st street.
Great Reasons to Live in The Estates of GlenEagles, Overland Park KS 66221
The Estates of GlenEagles is within the award winning Blue Valley School District
The Estates of GlenEagles is close to Ironwoods park at 147th and Mission in Leawood
The Estates of GlenEagles is close to Heritage park in Olathe at 159th and Pflumm
Leawood Town Center is just minutes away with outstanding shopping, restaurants and movie theaters
Outstanding original sculpture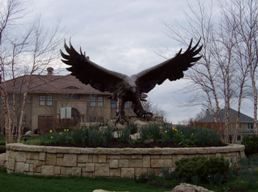 Luxury new construction home builders who worked in Gleneagles
J.S. Robinson
Larry Coast
Thompson-Sailors
Hoerl Construction
Brian Koehler
Fuller Homes, Inc.
J.M. Contractors
(Don't see your builder listed? Leave a comment below and I will update the list once I verify the information.)
How much is your home worth?